300 mg (10 mg/mL)
ONLY FOR USE WITH A COMPATIBLE HOSPIRA PCA PUMP SET WITH INJECTOR AND A COMPATIBLE HOSPIRA INFUSION DEVICE.
CII
Rx only
WARNING: ADDICTION, ABUSE, AND MISUSE; LIFE-THREATENING RESPIRATORY DEPRESSION; NEONATAL OPIOID WITHDRAWAL SYNDROME; CYTOCHROME P450 3A4 INTERACTION; RISKS FROM CONCOMITANT USE WITH BENZODIAZEPINES OR OTHER CNS DEPRESSANTS; and MONOAMINE OXIDASE (MAO) INHIBITORS INTERACTIONS
DESCRIPTION
Meperidine Hydrochloride Injection, USP 10 mg/mL is a sterile, nonpyrogenic, hypotonic solution of meperidine hydrochloride, USP, in an acetate buffer. This product is to be administered by the intravenous route via a compatible Hospira infusion device.
Each mL contains meperidine hydrochloride 10 mg. Sodium acetate, anhydrous 1.5 mg and glacial acetic acid, 0.0012 mL are added as buffers. pH 4.5 (3.5 to 6.0).
The solution contains no bacteriostat or antimicrobial agent and is intended only for use as a single-dose unit to provide analgesia via the intravenous route using a compatible Hospira infusion device.
Meperidine is classified pharmacologically as a synthetic narcotic analgesic.
Meperidine Hydrochloride is ethyl-1-methyl-4-phenylisonipecotate hydrochloride, a white, crystalline substance with a melting point of 186° to 189°C. It is readily soluble in water and has a neutral reaction and a slightly bitter taste. The solution is not decomposed by a short period of boiling.
It has the following structural formula: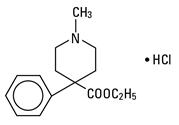 C

15

H

21

NO

2

∙ HCl
M.W. 283.80
CLINICAL PHARMACOLOGY
Meperidine hydrochloride is a narcotic analgesic with multiple actions qualitatively similar to those of morphine; the most prominent of these involve the central nervous system and organs composed of smooth muscle. The principal actions of therapeutic value are analgesia and sedation.
There is some evidence which suggests that meperidine may produce less smooth muscle spasm, constipation, and depression of the cough reflex than equianalgesic doses of morphine. Meperidine, in 60 mg to 80 mg parenteral doses, is approximately equivalent in analgesic effect to 10 mg of morphine. The onset of action is slightly more rapid than with morphine, and the duration of action is slightly shorter. Meperidine is significantly less effective by the oral than by the parenteral route, but the exact ratio of oral to parenteral effectiveness is unknown.
Meperidine is metabolized through biotransformation. The elimination half-life is 3 to 8 hours in healthy volunteers and is 1.3 to 2 times greater in post-operative or cirrhotic patients. The only bioactive metabolite is normeperidine which has an average elimination half-life of 20.6 hours. Elevated serum levels have been reported to cause central nervous system excitatory effects.
Effects on the Endocrine System
Chronic use of opioids may influence the hypothalamic-pituitary-gonadal axis, leading to hormonal changes that may manifest as low libido, impotence, erectile dysfunction, amenorrhea, or infertility. The causal role of opioids in the clinical syndrome of hypogonadism is unknown because the various medical, physical, lifestyle, and psychological stressors that may influence gonadal hormone levels have not been adequately controlled for in studies conducted to date [see ADVERSE REACTIONS].
INDICATIONS AND USAGE
Meperidine Hydrochloride Injection is indicated for the management of pain severe enough to require an opioid analgesic and for which alternative treatments are inadequate.
Limitations of Use
Meperidine Hydrochloride Injection should not be used for treatment of chronic pain. Prolonged Meperidine Hydrochloride Injection use may increase the risk of toxicity (e.g., seizures) from the accumulation of the meperidine metabolite, normeperidine.
Because of the risks of addiction, abuse, and misuse, with opioids, even at recommended doses [see WARNINGS], reserve meperidine hydrochloride for use in patients for whom alternative treatment options [e.g., non-opioid analgesics or opioid combination products]
Have not been tolerated, or are not expected to be tolerated,
Have not provided adequate analgesia, or are not expected to provide adequate analgesia
CONTRAINDICATIONS
Meperidine Hydrochloride Injection is contraindicated in patients with:
Significant respiratory depression [see WARNINGS]
Acute of severe bronchial asthma in an unmonitored setting or in the absence of resuscitative equipment [see WARNINGS]
Concomitant use of monoamine oxidase (MAO) inhibitors or within 14 days of having taken an MAOI [see WARNINGS, PRECAUTIONS; Drug Interactions]
Known of suspected gastrointestinal obstruction, including paralytic ileus [see WARNINGS]
Hypersensitivity to meperidine.
ADVERSE REACTIONS
The major hazards of meperidine, as with other narcotic analgesics, are respiratory depression and, to a lesser degree, circulatory depression; respiratory arrest, shock, and cardiac arrest have occurred.
The most frequently observed adverse reactions include light-headedness, dizziness, sedation, nausea, vomiting, and sweating. These effects seem to be more prominent in ambulatory patients and in those who are not experiencing severe pain. In such individuals, lower doses are advisable. Some adverse reactions in ambulatory patients may be alleviated if the patient lies down. Other adverse reactions include:
Nervous System. Euphoria, dysphoria, weakness, headache, agitation, tremor, uncoordinated muscle movements, severe convulsions, transient hallucinations and disorientation, visual disturbances. Inadvertent injection about a nerve trunk may result in sensory-motor paralysis which is usually, though not always, transitory.
Gastrointestinal. Dry mouth, constipation, biliary tract spasm.
Cardiovascular. Flushing of the face, tachycardia, bradycardia, palpitation, hypotension (see WARNINGS), syncope, phlebitis following intravenous injection.
Genitourinary. Urinary retention.
Allergic. Pruritus, urticaria, other skin rashes, wheal and flare over the vein with intravenous injection.
Other. Pain at injection site; local tissue irritation and induration following subcutaneous injection, particularly when repeated; antidiuretic effect.
Serotonin syndrome. Cases of serotonin syndrome, a potentially life-threatening condition, have been reported during concomitant use of opioids with serotonergic drugs.
Adrenal insufficiency. Cases of adrenal insufficiency have been reported with opioid use, more often following greater than one month of use.
Androgen deficiency. Cases of androgen deficiency have occurred with chronic use of opioids [see CLINICAL PHARMACOLOGY].
DRUG ABUSE AND DEPENDENCE
Controlled Substance
Meperidine Hydrochloride Injection contains meperidine, a Schedule II controlled substance.
Abuse
Meperidine Hydrochloride Injection contains meperidine, a substance with a high potential for abuse similar to other opioids including, fentanyl, hydrocodone, hydromorphone, methadone, morphine, oxycodone, oxymorphone, and tapentadol. Meperidine Hydrochloride Injection can be abused and is subject to misuse, addiction, and criminal diversion [see WARNINGS].
All patients treated with opioids require careful monitoring for signs of abuse and addiction, since use of opioid analgesic products carries the risk of addiction even under appropriate medical use.
Prescription drug abuse is the intentional non-therapeutic use of a prescription drug, even once, for its rewarding psychological or physiological effects.
Drug addiction is a cluster of behavioral, cognitive, and physiological phenomena that develop after repeated substance use and includes: a strong desire to take the drug, difficulties in controlling its use, persisting in its use despite harmful consequences, a higher priority given to drug use than to other activities and obligations, increased tolerance, and sometimes a physical withdrawal.
"Drug-seeking" behavior is very common in persons with substance use disorders. Drug-seeking tactics include emergency calls or visits near the end of office hours, refusal to undergo appropriate examination, testing, or referral, repeated "loss" of prescriptions, tampering with prescriptions and reluctance to provide prior medical records or contact information for other treating health care provider(s). "Doctor shopping" (visiting multiple prescribers to obtain additional prescriptions) is common among drug abusers and people suffering from untreated addiction. Preoccupation with achieving adequate pain relief can be appropriate behavior in a patient with poor pain control.
Abuse and addiction are separate and distinct from physical dependence and tolerance. Health care providers should be aware that addiction may not be accompanied by concurrent tolerance and symptoms of physical dependence in all addicts. In addition, abuse of opioids can occur in the absence of true addiction.
Meperidine Hydrochloride Injection, like other opioids, can be diverted for non-medical use into illicit channels of distribution. Careful record-keeping of prescribing information, including quantity, frequency, and renewal requests, as required by state and federal law, is strongly advised.
Proper assessment of the patient, proper prescribing practices, periodic re-evaluation of therapy, and proper dispensing and storage are appropriate measures that help to limit abuse of opioid drugs.
Risks Specific to Abuse of Meperidine Hydrochloride Injection
Abuse of Meperidine Hydrochloride Injection poses a risk of overdose and death. The risk is increased with concurrent abuse of Meperidine Hydrochloride Injection with alcohol and other central nervous system depressants.
Parenteral drug abuse is commonly associated with transmission of infectious diseases such as hepatitis and HIV.
Dependence
Both tolerance and physical dependence can develop during chronic opioid therapy. Tolerance is the need for increasing doses of opioids to maintain a defined effect such as analgesia (in the absence of disease progression or other external factors). Tolerance may occur to both the desired and undesired effects of drugs, and may develop at different rates for different effects.
Physical dependence results in withdrawal symptoms after abrupt discontinuation or a significant dosage reduction of a drug. Withdrawal also may be precipitated through the administration of drugs with opioid antagonist activity (e.g., naloxone, nalmefene), mixed agonist/antagonist analgesics (e.g., pentazocine, butorphanol, nalbuphine), or partial agonists (e.g., buprenorphine). Physical dependence may not occur to a clinically significant degree until after several days to weeks of continued opioid usage.
Meperidine Hydrochloride Injection should not be abruptly discontinued [see DOSAGE AND ADMINISTRATION]. If Meperidine Hydrochloride Injection is abruptly discontinued in a physically dependent patient, a withdrawal syndrome may occur. Some or all of the following can characterize this syndrome: restlessness, lacrimation, rhinorrhea, yawning, perspiration, chills, myalgia, and mydriasis. Other signs and symptoms also may develop, including: irritability, anxiety, backache, joint pain, weakness, abdominal cramps, insomnia, nausea, anorexia, vomiting, diarrhea, or increased blood pressure, respiratory rate, and heart rate.
Infants born to mothers physically dependent on opioids will also be physically dependent and may exhibit respiratory difficulties and withdrawal signs [see PRECAUTIONS; Pregnancy].
OVERDOSAGE
Clinical Presentation
Acute overdose with Meperidine Hydrochloride Injection can be manifested by respiratory depression, somnolence progressing to stupor or coma, skeletal muscle flaccidity, cold and clammy skin, constricted pupils, and, in some cases, pulmonary edema, bradycardia, hypotension, partial or complete airway obstruction, atypical snoring, and death. Marked mydriasis rather than miosis may be seen with hypoxia in overdose situations. In severe overdose, particularly by the intravenous route, apnea, circulatory collapse, cardiac arrest, and death may occur.
Treatment of Overdose
In case of overdose, priorities are the reestablishment of a patent and protected airway and institution of assisted or controlled ventilation, if needed. Employ other supportive measures (including oxygen and vasopressors) in the management of circulatory shock and pulmonary edema as indicated. Cardiac arrest or arrhythmias will require advanced life-support techniques.
The opioid antagonists, naloxone or nalmefene, are specific antidotes to respiratory depression resulting from opioid overdose. For clinically significant respiratory or circulatory depression secondary to Meperidine Hydrochloride Injection overdose, administer an opioid antagonist. Opioid antagonists should not be administered in the absence of clinically significant respiratory or circulatory depression secondary to Meperidine Hydrochloride Injection overdose.
Because the duration of opioid reversal is expected to be less than the duration of action of meperidine in Meperidine Hydrochloride Injection, carefully monitor the patient until spontaneous respiration is reliably re-established. If the response to an opioid antagonist is suboptimal or only brief in nature, administer additional antagonist as directed by the product's prescribing information.
In an individual physically dependent on opioids, administration of the recommended usual dosage of the antagonist will precipitate an acute withdrawal syndrome. The severity of the withdrawal symptoms experienced will depend on the degree of physical dependence and the dose of the antagonist administered. If a decision is made to treat serious respiratory depression in the physically dependent patient, administration of the antagonist should be begun with care and by titration with smaller than usual doses of the antagonist.
Accumulation of meperidine and/or its active metabolite, normeperidine, can occur in patients with hepatic impairment. Elevated serum levels have been reported to cause central nervous system excitatory effects. Meperidine should therefore be used with caution in patients with hepatic impairment. Titrate the dosage of Meperidine Hydrochloride Injection slowly in patients with hepatic impairment and monitor closely for signs of central nervous system and respiratory depression.
HOW SUPPLIED
Meperidine Hydrochloride Injection, USP 10 mg/mL is supplied in a 30 mL single-dose container, NDC 0409-6030-04.
This syringe is for insertion into a compatible infusion device only. Remove cover from male Luer and attached to PCA set. To load syringe injector assembly into infusion device, refer to operating manual of infusion device. See instructions on cart for syringe inspection and assembly.
Hospira, Inc.