DESCRIPTION
Disopyramide phosphate is an antiarrhythmic drug available for oral administration in immediate-release capsules containing 100 mg or 150 mg of disopyramide base, present as the phosphate. The base content of the phosphate salt is 77.6%. The structural formula of disopyramide phosphate is: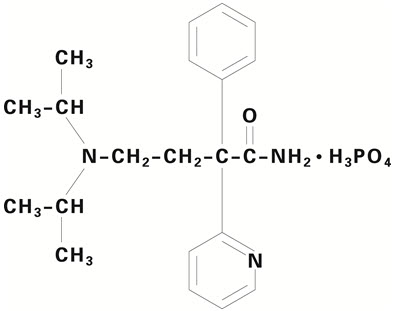 α-[2-(diisopropylamino) ethyl]-α-phenyl- 2-pyridineacetamide phosphate
Disopyramide phosphate is freely soluble in water, and the free base (pKa 10.4) has an aqueous solubility of 1 mg/ml. The chloroform:water partition coefficient of the base is 3.1 at pH 7.2.
Disopyramide phosphate is a racemic mixture of d- and l- isomers. This drug is not chemically related to other antiarrhythmic drugs.
Inactive ingredients of disopyramide phosphate include corn starch, edible ink, FD&C Red No. 3, FD&C Yellow No. 6, gelatin, lactose, talc, and titanium dioxide; the 150-mg capsule also contains FD&C Blue No. 1.
INDICATIONS AND USAGE
Disopyramide phosphate is indicated for the treatment of documented ventricular arrhythmias, such as sustained ventricular tachycardia, that, in the judgment of the physician, are life-threatening. Because of the proarrhythmic effects of disopyramide phosphate, its use with lesser arrhythmias is generally not recommended. Treatment of patients with asymptomatic ventricular premature contractions should be avoided.
Initiation of disopyramide phosphate treatment, as with other antiarrhythmic agents used to treat life-threatening arrhythmias, should be carried out in the hospital.
Antiarrhythmic drugs have not been shown to enhance survival in patients with ventricular arrhythmias.
CONTRAINDICATIONS
Disopyramide phosphate is contraindicated in the presence of cardiogenic shock, preexisting second-or third-degree AV block (if no pacemaker is present), congenital Q-T prolongation, or known hypersensitivity to the drug.
Warnings
Mortality
In the National Heart, Lung and Blood Institute's Cardiac Arrhythmia Suppression Trial (CAST), a long-term, multi-center, randomized, double-blind study in patients with asymptomatic non-life-threatening ventricular arrhythmias who had had a myocardial infarction more than 6 days but less than 2 years previously, an excessive mortality or non-fatal cardiac arrest rate (7.7%) was seen in patients treated with encainide or flecainide compared with that seen in patients assigned to carefully matched placebo-treated groups (3.0%). The average duration of treatment with encainide or flecainide in this study was 10 months.
The applicability of the CAST results to other populations (e.g., those without recent myocardial infarction) is uncertain. Considering the known proarrhythmic properties of disopyramide phosphate and the lack of evidence of improved survival for any antiarrhythmic drug in patients without life-threatening arrhythmias, the use of disopyramide phosphate as well as other antiarrhythmic agents should be reserved for patients with life-threatening ventricular arrhythmias.
ADVERSE REACTIONS
The adverse reactions which were reported in disopyramide phosphate clinical trials encompass observations in 1,500 patients, including 90 patients studied for at least 4 years. The most serious adverse reactions are hypotension and congestive heart failure. The most common adverse reactions, which are dose dependent, are associated with the anticholinergic properties of the drug. These may be transitory, but may be persistent or can be severe. Urinary retention is the most serious anticholinergic effect.
The following reactions were reported in 10% to 40% of patients:
Anticholinergic: dry mouth (32%), urinary hesitancy (14%), constipation (11%)
The following reactions were reported in 3% to 9% of patients:
Anticholinergic: blurred vision, dry nose/eyes/throat
Genitourinary: urinary retention, urinary frequency and urgency
Gastrointestinal: nausea, pain/bloating/gas
General: dizziness, general fatigue/muscle weakness, headache, malaise, aches/pains
The following reactions were reported in 1% to 3% of patients:
Genitourinary: impotence
Cardiovascular: hypotension with or without congestive heart failure, increased congestive heart failure (see Warnings), cardiac conduction disturbances (see Warnings), edema/weight gain, shortness of breath, syncope, chest pain
Gastrointestinal: anorexia, diarrhea, vomiting
Dermatologic: generalized rash/dermatoses, itching
Central nervous system: nervousness
Other: hypokalemia, elevated cholesterol/triglycerides
The following reactions were reported in less than 1%:
Depression, insomnia, dysuria, numbness/tingling, elevated liver enzymes, AV block, elevated BUN, elevated creatinine, decreased hemoglobin/hematocrit
Hypoglycemia has been reported in association with disopyramide phosphate administration (see Warnings).
Infrequent occurrences of reversible cholestatic jaundice, fever, and respiratory difficulty have been reported in association with disopyramide therapy, as have rare instances of thrombocytopenia, reversible agranulocytosis, and gynecomastia. Some cases of LE (lupus erythematosus) symptoms have been reported; most cases occurred in patients who had been switched to disopyramide from procainamide following the development of LE symptoms. Rarely, acute psychosis has been reported following disopyramide phosphate therapy, with prompt return to normal mental status when therapy was stopped. The physician should be aware of these possible reactions and should discontinue disopyramide phosphate therapy promptly if they occur.
OVERDOSAGE
Symptoms
Deliberate or accidental overdosage of oral disopyramide may be followed by apnea, loss of consciousness, cardiac arrhythmias, and loss of spontaneous respiration. Death has occurred following overdosage.
Toxic plasma levels of disopyramide produce excessive widening of the QRS complex and Q-T interval, worsening of congestive heart failure, hypotension, varying kinds and degrees of conduction disturbance, bradycardia, and finally asystole. Obvious anticholinergic effects are also observed.
The approximate oral LD50 of disopyramide phosphate is 580 and 700 mg/kg for rats and mice, respectively.
Treatment
Experience indicates that prompt and vigorous treatment of overdosage is necessary, even in the absence of symptoms. Such treatment may be life-saving. No specific antidote for disopyramide phosphate has been identified. Treatment should be symptomatic and may include induction of emesis or gastric lavage, administration of a cathartic followed by activated charcoal by mouth or stomach tube, intravenous administration of isoproterenol and dopamine, insertion of an intra-aortic balloon for counterpulsation, and mechanically assisted ventilation. Hemodialysis or, preferably, hemoperfusion with charcoal may be employed to lower serum concentration of the drug.
The electrocardiogram should be monitored, and supportive therapy with cardiac glycosides and diuretics should be given as required.
If progressive AV block should develop, endocardial pacing should be implemented. In case of any impaired renal function, measures to increase the glomerular filtration rate may reduce the toxicity (disopyramide is excreted primarily by the kidney).
The anticholinergic effects can be reversed with neostigmine at the discretion of the physician.
Altering the urinary pH in humans does not affect the plasma half-life or the amount of disopyramide excreted in the urine.
DOSAGE AND ADMINISTRATION
The dosage of disopyramide phosphate must be individualized for each patient on the basis of response and tolerance. The usual adult dosage of disopyramide phosphate is 400 to 800 mg per day given in divided doses. The recommended dosage for most adults is 600 mg/day given in divided doses (150 mg every 6 hours for immediate-release disopyramide phosphate). For patients whose body weight is less than 110 pounds (50 kg), the recommended dosage is 400 mg/day given in divided doses (100 mg every 6 hours for immediate-release disopyramide phosphate). In the event of increased anticholinergic side effects, plasma levels of disopyramide should be monitored and the dose of the drug adjusted accordingly. A reduction of the dose by one third, from the recommended 600 mg/day to 400 mg/day, would be reasonable, without changing the dosing interval.
For patients with cardiomyopathy or possible cardiac decompensation, a loading dose, as discussed below, should not be given, and initial dosage should be limited to 100 mg of immediate-release disopyramide phosphate every 6 to 8 hours. Subsequent dosage adjustments should be made gradually, with close monitoring for the possible development of hypotension and/or congestive heart failure (see Warnings).
For patients with moderate renal insufficiency (creatinine clearance greater than 40 ml/min) or hepatic insufficiency, the recommended dosage is 400 mg/day given in divided doses (100 mg every 6 hours for immediate-release disopyramide phosphate).
For patients with severe renal insufficiency (Ccr 40 ml/min or less), the recommended dosage regimen of immediate-release disopyramide phosphate is 100 mg at intervals shown in the table below, with or without an initial loading dose of 150 mg.
IMMEDIATE-RELEASE DISOPYRAMIDE PHOSPHATE DOSAGE INTERVAL FOR PATIENTS WITH RENAL INSUFFICIENCY

| | | | |
| --- | --- | --- | --- |
| Creatinine Clearance (ml/min) | 40–30 | 30–15 | Less than 15 |
| Approximate Maintenance-dosing interval | q 8 hr | q 12 hr | Q 24 hr |
For patients in whom rapid control of ventricular arrhythmia is essential, an initial loading dose of 300 mg of immediate-release disopyramide phosphate (200 mg for patients whose body weight is less than 110 pounds) is recommended, followed by the appropriate maintenance dosage. Therapeutic effects are usually attained 30 minutes to 3 hours after administration of a 300-mg loading dose. If there is no response or evidence of toxicity within 6 hours of the loading dose, 200 mg of immediate-release disopyramide phosphate every 6 hours may be prescribed instead of the usual 150 mg. If there is no response to this dosage within 48 hours, either disopyramide phosphate should then be discontinued or the physician should consider hospitalizing the patient for careful monitoring while subsequent immediate-release disopyramide phosphate doses of 250 mg or 300 mg every 6 hours are given. A limited number of patients with severe refractory ventricular tachycardia have tolerated daily doses of disopyramide phosphate up to 1600 mg per day (400 mg every 6 hours), resulting in disopyramide plasma levels up to 9 mcg/ml. If such treatment is warranted, it is essential that patients be hospitalized for close evaluation and continuous monitoring.
Transferring to disopyramide phosphate immediate release or Norpace CR.
The following dosage schedule based on theoretical considerations rather than experimental data is suggested for transferring patients with normal renal function from either quinidine sulfate or procainamide therapy (Type 1 antiarrhythmic agents) to disopyramide phosphate therapy:
Disopyramide phosphate should be started using the regular maintenance schedule without a loading dose 6 to 12 hours after the last dose of quinidine sulfate or 3 to 6 hours after the last dose of procainamide.
In patients in whom withdrawal of quinidine sulfate or procainamide is likely to produce life-threatening arrhythmias, the physician should consider hospitalization of the patient.
When transferring a patient from immediate-release disopyramide phosphate to Norpace CR, the maintenance schedule of Norpace CR may be started 6 hours after the last dose of immediate-release disopyramide phosphate.
Pediatric Dosage
Controlled clinical studies have not been conducted in pediatric patients; however, the following suggested dosage table is based on published clinical experience.
Total daily dosage should be divided and equal doses administered orally every 6 hours or at intervals according to individual patient needs. Disopyramide plasma levels and therapeutic response must be monitored closely. Patients should be hospitalized during the initial treatment period, and dose titration should start at the lower end of the ranges provided below.
SUGGESTED TOTAL DAILY DOSAGE*
Age
(years)
Disopyramide
(mg/kg body weight/day)
Under 1
10 to 30
1 to 4
10 to 20
4 to 12
10 to 15
12 to 18
6 to 15
HOW SUPPLIED
Disopyramide phosphate is supplied in hard gelatin capsules containing either 100 mg or 150 mg of disopyramide base, present as the phosphate.
Disopyramide phosphate 100-mg capsules are white and orange, with markings SEARLE, 2752, NORPACE, and 100 MG.
| NDC Number | Size |
| --- | --- |
| 59762-0386-1 | bottle of 100 |
Disopyramide phosphate 150-mg capsules are brown and orange, with markings SEARLE, 2762, NORPACE, and 150 MG.
| NDC Number | Size |
| --- | --- |
| 59762-0400-1 | bottle of 100 |