WARNINGS
LONITEN Tablets contain the powerful antihypertensive agent, minoxidil, which may produce serious adverse effects. It can cause pericardial effusion, occasionally progressing to tamponade, and angina pectoris may be exacerbated. LONITEN should be reserved for hypertensive patients who do not respond adequately to maximum therapeutic doses of a diuretic and two other antihypertensive agents.
In experimental animals, minoxidil caused several kinds of myocardial lesions as well as other adverse cardiac effects (see Cardiac Lesions in Animals).
LONITEN must be administered under close supervision, usually concomitantly with therapeutic doses of a beta-adrenergic blocking agent to prevent tachycardia and increased myocardial workload. It must also usually be given with a diuretic, frequently one acting in the ascending limb of the loop of Henle, to prevent serious fluid accumulation. Patients with malignant hypertension and those already receiving guanethidine (see WARNINGS) should be hospitalized when LONITEN is first administered so that they can be monitored to avoid too rapid, or large orthostatic, decreases in blood pressure.
DESCRIPTION
LONITEN Tablets contain minoxidil, an antihypertensive peripheral vasodilator. Minoxidil occurs as a white or off-white, odorless, crystalline solid that is soluble in water to the extent of approximately 2 mg/mL, is readily soluble in propylene glycol or ethanol, and is almost insoluble in acetone, chloroform or ethyl acetate. The chemical name for minoxidil is 2,4-pyrimidinediamine,6-(1-piperidinyl)-, 3-oxide (mw=209.25). The structural formula is represented at right: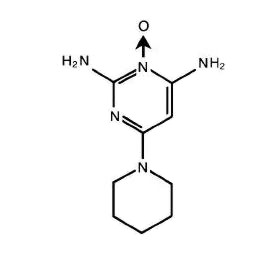 LONITEN Tablets for oral administration contain either 2.5 mg or 10 mg of minoxidil. Inactive ingredients: cellulose, corn starch, lactose, magnesium stearate, silicon dioxide.
INDICATIONS AND USAGE
Because of the potential for serious adverse effects, LONITEN Tablets are indicated only in the treatment of hypertension that is symptomatic or associated with target organ damage and is not manageable with maximum therapeutic doses of a diuretic plus two other antihypertensive drugs. At the present time use in milder degrees of hypertension is not recommended because the benefit-risk relationship in such patients has not been defined.
LONITEN reduced supine diastolic blood pressure by 20 mm Hg or to 90 mm Hg or less in approximately 75% of patients, most of who had hypertension that could not be controlled by other drugs.
CONTRAINDICATIONS
LONITEN Tablets are contraindicated in pheochromocytoma, because it may stimulate secretion of catecholamines from the tumor through its antihypertensive action. LONITEN is contraindicated in those patients with a history of hypersensitivity to any of the components of the preparation.
OVERDOSAGE
There have been only a few instances of deliberate or accidental overdosage with LONITEN Tablets. One patient recovered after taking 50 mg of minoxidil together with 500 mg of a barbiturate. When exaggerated hypotension is encountered, it is most likely to occur in association with residual sympathetic nervous system blockade from previous therapy (guanethidine-like effects or alpha-adrenergic blockage), which prevents the usual compensatory maintenance of blood pressure. Intravenous administration of normal saline will help to maintain blood pressure and facilitate urine formation in these patients. Sympathomimetic drugs such as norepinephrine or epinephrine should be avoided because of their excessive cardiac stimulating action. Phenylephrine, angiotensin II, vasopressin, and dopamine all reverse hypotension due to LONITEN, but should only be used if underperfusion of a vital organ is evident.
Radioimmunoassay can be performed to determine the concentration of minoxidil in the blood. At the maximum adult dose of 100 mg/day, peak blood levels of 1641 ng/mL and 2441 ng/mL were observed in two patients, respectively. Due to patient-to-patient variation in blood levels, it is difficult to establish an overdosage warning level. In general, a substantial increase above 2000 ng/mL should be regarded as overdosage, unless the physician is aware that the patient has taken no more than the maximum dose.
Oral LD50 in rats has ranged from 1321 – 3492 mg/kg; in mice, 2456 – 2648 mg/kg.
HOW SUPPLIED
LONITEN Tablets are available as follows:
2.5 mg (white, round, scored, imprinted U/121 and 2½)
Bottles of 100 NDC 0009-0121-01
10 mg (white, round, scored, imprinted LONITEN 10)
Bottles of 100 NDC 0009-0137-01
PATIENT INFORMATION
LONITEN Tablets contain minoxidil, a medicine for the treatment of high blood pressure in the patient who has not been controlled or is experiencing unacceptable side effects with other medications. It must usually be taken with other medicines.
Be absolutely sure to take all of your medicines for high blood pressure according to your doctor's instructions. Do not stop taking LONITEN unless your doctor tells you to. Do not give any of your medicine to other people.
It is important that you look for the warning signals of certain undesired effects of LONITEN. Call your doctor if they occur. Your doctor will need to see you regularly while you are taking LONITEN. Be sure to keep all your appointments or to arrange for new ones if you must miss one.
Do not hesitate to call your doctor if any discomforts or problems occur.
The information here is intended to help you take LONITEN properly. It does not tell you all there is to know about LONITEN. There is a more technical leaflet that you may request from the pharmacist; you may need your doctor's help in understanding parts of that leaflet.
What is LONITEN?
LONITEN Tablets contain minoxidil which is a drug for lowering the blood pressure. It works by relaxing and enlarging certain small blood vessels so that blood flows through them more easily.
Why lower blood pressure?
Your doctor has prescribed LONITEN to lower your blood pressure and protect vital parts of your body. Uncontrolled blood pressure can cause stroke, heart failure, blindness, kidney failure, and heart attacks.
Most people with high blood pressure need to take medicines to treat it for their whole lives.
Who should take LONITEN?
There are many people with high blood pressure, but most of them do not need LONITEN. LONITEN is used ONLY when your doctor decides that:
1.

your high blood pressure is severe;

2.

your high blood pressure is causing symptoms or damage to vital organs; and

3.

other medicines did not work well enough or had very disturbing side effects.
LONITEN should be taken only when a doctor prescribes it. Never give any of your LONITEN Tablets, or any other high blood pressure medicine, to a friend or relative.
Pregnancy: In some cases doctors may prescribe LONITEN for women who are pregnant or who are planning to have children. However, its safe use in pregnancy has not been established. Laboratory animals had a reduced ability to become pregnant and a reduced survival of offspring while taking LONITEN. If you are pregnant or are planning to become pregnant, be sure to tell your doctor.
How to take LONITEN.
Usually, your doctor will prescribe two other medicines along with LONITEN. These will help lower blood pressure and will help prevent undesired effects of LONITEN.
Often, when a medicine like LONITEN lowers blood pressure, your body tries to return the blood pressure to the original higher level. It does this by holding on to water and salt (so there will be more fluid to pump) and by making your heart beat faster. To prevent this, your doctor will usually prescribe a water tablet to remove the extra salt and water from your body (a diuretic: dye-u-RET-tic) and another medicine to slow your heart beat.
You must follow your doctor's instructions exactly, taking all the prescribed medicines, in the right amounts, each day. These medicines will help keep your blood pressure down. The water tablet and heart beat medicine will help prevent the undesired effects of LONITEN.
LONITEN Tablets come in two strengths (2½ milligrams and 10 milligrams) that are marked on each tablet. Pay close attention to the tablet markings to be sure you are taking the correct strength. Your doctor may prescribe half a tablet; the tablets are scored (partly cut on one side) so that you can easily break them.
When you first start taking LONITEN, your doctor may need to see you often in order to adjust your dosage. Take all your medicine according to the schedule prescribed by your doctor. Do not skip any doses. If you should forget a dose of LONITEN, wait until it is time for your next dose, then continue with your regular schedule. Remember: do not stop taking LONITEN, or any of your other high blood pressure medicines, without checking with your doctor. Make sure that any doctor treating or examining you knows that you are taking high blood pressure medicines, including LONITEN.
WARNING SIGNALS
Even if you take all your medicines correctly, LONITEN Tablets may cause undesired effects. Some of these are serious and you should be on the lookout for them. If any of the following warning signals occur, you must call your doctor immediately:
1.

2.

3.

4.

5.
OTHER UNDESIRED EFFECTS
LONITEN Tablets can cause other undesired effects such as nausea and/or vomiting that are annoying but not dangerous. Do not stop taking the drug because of these other undesired effects without talking to your doctor.
Hair growth: About 8 out of every 10 patients who have taken LONITEN noticed that fine body hair grew darker or longer on certain parts of the body. This happened about 3 to 6 weeks after beginning treatment. The hair may first be noticed on the forehead and temples, between the eyebrows, or on the upper part of the cheeks. Later, hair may grow on the back, arms, legs, or scalp. Although hair growth may not be noticeable to some patients, it often is bothersome in women and children. Unwanted hair can be controlled with a hair remover or by shaving. The extra hair is not permanent, it disappears within 1 to 6 months of stopping LONITEN. Nevertheless, you should not stop taking LONITEN without first talking to your doctor.
A few patients have developed a rash or breast tenderness while taking LONITEN Tablets, but this is unusual.
This product's label may have been updated. For current full prescribing information, please visit www.pfizer.com

LAB-0169-3.0
Revised September 2023