WARNING
Only physicians experienced in cancer chemotherapy should use Cytarabine Injection.
For induction therapy patients should be treated in a facility with laboratory and supportive resources sufficient to monitor drug tolerance and protect and maintain a patient compromised by drug toxicity. The main toxic effect of cytarabine is bone marrow suppression with leukopenia, thrombocytopenia and anemia. Less serious toxicity includes nausea, vomiting, diarrhea and abdominal pain, oral ulceration and hepatic dysfunction.
The physician must judge possible benefit to the patient against known toxic effects of this drug in considering the advisability of therapy with cytarabine. Before making this judgment or beginning treatment, the physician should be familiar with the following text.
DESCRIPTION
Cytarabine Injection, an antineoplastic agent, is a sterile preserved solution for intravenous or subcutaneous administration and is available in 20 mg/mL (500 mg/25 mL) multiple-dose vial. Each mL contains: 20 mg Cytarabine, USP and the following inactive ingredients: benzyl alcohol 0.9% and Water for Injection q.s. The pH is adjusted with hydrochloric acid and/or sodium hydroxide to a target pH of 7.6.
Cytarabine is chemically 4-amino-1-β-D-arabinofuranosyl-2(1H)-pyrimidinone. The structural formula is: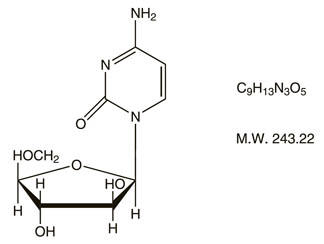 Cytarabine is an odorless, white to off-white, crystalline powder which is freely soluble in water and slightly soluble in alcohol and in chloroform.
INDICATIONS AND USAGE
Cytarabine in combination with other approved anticancer drugs is indicated for remission induction in acute non-lymphocytic leukemia of adults and children. It has also been found useful in the treatment of acute lymphocytic leukemia and the blast phase of chronic myelocytic leukemia.
Intrathecal administration of Cytarabine Injection (preservative-free only) is indicated for the prophylaxis and treatment of meningeal leukemia.
CONTRAINDICATIONS
Cytarabine is contraindicated in those patients who are hypersensitive to the drug.
WARNINGS
(see boxed WARNING)
Cytarabine is a potent bone marrow suppressant. Therapy should be started cautiously in patients with pre-existing drug-induced bone marrow suppression. Patients receiving this drug must be under close medical supervision and, during induction therapy, should have leukocyte and platelet counts performed daily. Bone marrow examinations should be performed frequently after blasts have disappeared from the peripheral blood.
Facilities should be available for management of complications, possibly fatal, of bone marrow suppression (infection resulting from granulocytopenia and other impaired body defenses and hemorrhage secondary to thrombocytopenia). One case of anaphylaxis that resulted in acute cardiopulmonary arrest and required resuscitation has been reported. This occurred immediately after the intravenous administration of cytarabine.
Severe and at times fatal CNS, GI and pulmonary toxicity (different from that seen with conventional therapy regimens of cytarabine) has been reported following some of the experimental cytarabine dose schedules. These reactions include reversible corneal toxicity, and hemorrhagic conjunctivitis, which may be prevented or diminished by prophylaxis with a local corticosteroid eye drop; cerebral and cerebellar dysfunction including personality changes, somnolence and coma, usually reversible; severe gastrointestinal ulceration, including pneumatosis cystoides intestinalis leading to peritonitis; sepsis and liver abscess; pulmonary edema, liver damage with increased hyperbilirubinemia, bowel necrosis; and necrotizing colitis. Rarely, severe skin rash, leading to desquamation has been reported. Complete alopecia is more commonly seen with experimental high dose therapy than with standard cytarabine treatment programs. If experimental high dose therapy is used, do not use a Cytarabine Injection containing benzyl alcohol.
Cases of cardiomyopathy with subsequent death has been reported following experimental high dose therapy with cytarabine in combination with cyclophosphamide when used for bone marrow transplant preparation.
A syndrome of sudden respiratory distress, rapidly progressing to pulmonary edema and radiographically pronounced cardiomegaly has been reported following experimental high dose therapy with cytarabine used for the treatment of relapsed leukemia from one institution in 16/72 patients. The outcome of this syndrome can be fatal.
Benzyl alcohol is contained in this product. Benzyl alcohol has been reported to be associated with a fatal "Gasping Syndrome" in premature infants.
Two patients with childhood acute myelogenous leukemia who received intrathecal and intravenous cytarabine at conventional doses (in addition to a number of other concomitantly administered drugs) developed delayed progressive ascending paralysis resulting in death in one of the two patients.
DO NOT USE CYTARABINE INJECTION (which contains benzyl alcohol) INTRATHECALLY.
Use in Pregnancy: Cytarabine can cause fetal harm when administered to a pregnant woman. Cytarabine causes abnormal cerebellar development in the neonatal hamster and is teratogenic to the rat fetus. There are no adequate and well-controlled studies in pregnant women. Women of childbearing potential should be advised to avoid becoming pregnant.
OVERDOSAGE
There is no antidote for cytarabine overdosage. Doses of 4.5 g/m2 by intravenous infusion over 1 hour every 12 hours for 12 doses has caused an unacceptable increase in irreversible CNS toxicity and death.
Single doses as high as 3 g/m2 have been administered by rapid intravenous infusion without apparent toxicity.
DOSAGE AND ADMINISTRATION
Cytarabine is not active orally. The schedule and method of administration varies with the program of therapy to be used. Cytarabine Injection may be given by intravenous infusion or injection or subcutaneously. Thrombophlebitis has occurred at the site of drug injection or infusion in some patients, and rarely patients have noted pain and inflammation at subcutaneous injection sites. In most instances, however, the drug has been well tolerated.
Patients can tolerate higher total doses when they receive the drug by rapid intravenous injection as compared with slow infusion. This phenomenon is related to the drug's rapid inactivation and brief exposure of susceptible normal and neoplastic cells to significant levels after rapid injection. Normal and neoplastic cells seem to respond in somewhat parallel fashion to these different modes of administration and no clear-cut clinical advantage has been demonstrated for either.
In the induction therapy of acute non-lymphocytic leukemia, the usual cytarabine dose in combination with other anti-cancer drugs is 100 mg/m2/day by continuous intravenous infusion (Days 1-7) or 100 mg/m2 intravenous every 12 hours (Days 1-7).
The literature should be consulted for the current recommendations for use in acute lymphocytic leukemia.
Intrathecal Use in Meningeal Leukemia: DO NOT USE CYTARABINE INJECTION (which contains benzyl alcohol) INTRATHECALLY.
The following dosage information regarding intrathecal use is included for informational purposes only.
Cytarabine has been used intrathecally in acute leukemia in doses ranging from 5 mg/m2 to 75 mg/m2 of body surface area. The frequency of administration varied from once a day for 4 days to once every 4 days. The most frequently used dose was 30 mg/m2 every 4 days until cerebrospinal fluid findings were normal, followed by one additional treatment. The dosage schedule is usually governed by the type and severity of central nervous system manifestations and the response to previous therapy.
Cytarabine given intrathecally may cause systemic toxicity and careful monitoring of the hemopoietic system is indicated. Modifications of other anti-leukemia therapy may be necessary. Major toxicity is rare. The most frequently reported reactions after intrathecal administration were nausea, vomiting and fever; these reactions are mild and self-limiting. Paraplegia has been reported. Necrotizing leukoencephalopathy occurred in 5 children; these patients had also been treated with intrathecal methotrexate and hydrocortisone, as well as by central nervous system radiation. Isolated neurotoxicity has been reported. Blindness occurred in two patients in remission whose treatment had consisted of combination systemic chemotherapy, prophylactic central nervous system radiation and intrathecal cytarabine.
When cytarabine is administered both intrathecally and intravenously within a few days, there is an increased risk of spinal cord toxicity, however, in serious lifethreatening disease, concurrent use of intravenous and intrathecal cytarabine is left to the discretion of the treating physician.
Focal leukemic involvement of the central nervous system may not respond to intrathecal cytarabine and may be better treated with radiotherapy.
Chemical Stability in Infusion Solutions: Chemical stability studies were performed by a stability indicating HPLC assay on Cytarabine Injection in infusion solutions. These studies showed that when Cytarabine Injection was diluted with Water for Injection, 5% Dextrose Injection or Sodium Chloride Injection, 97-100% of the cytarabine was still present after 8 days storage at room temperature.
This chemical stability information in no way indicates that it would be acceptable practice to infuse a cytarabine admixture well after the preparation time. Good professional practice suggests that administration of an admixture should be as soon after preparation as feasible.
Parenteral drugs should be inspected visually for particulate matter and discoloration, prior to administration, whenever solution and container permit.
HOW SUPPLIED
Cytarabine Injection is available as follows:
Unit of Sale

Total Strength/Total Volume

(Concentration)

NDC 61703-304-36

Carton of 1 multiple-dose flip-top vial (red cap)

500 mg/25 mL

(20 mg/mL)
STORAGE CONDITIONS
Protect from light. Retain in carton until time of use.
REFERENCES
1.

Recommendations for the Safe Handling of Parenteral Antineoplastic Drugs, NIH Publications No. 83-2621. For sale by the Superintendent of Documents, U.S. Government Printing Office, Washington, D.C. 20402.

2.

AMA Council Report, Guidelines for Handling Parenteral Antineoplastics, JAMA, 1985; 2.53 (11): 1590-1592.

3.

National Study Commission on Cytotoxic Exposure - Recommendations for Handling Cytotoxic Agents. Available from Louis P. Jeffrey, ScD., Chairman, National Study Commission on Cytotoxic Exposure, Massachusetts College of Pharmacy and Allied Health Sciences, 179 Longwood Avenue, Boston, Massachusetts 02115.

4.

Clinical Oncological Society of Australia, Guidelines and Recommendations for Safe Handling of Antineoplastic Agents. Med J Australia, 1983; 1:426-428.

5.

Jones RB,

et al

: Safe Handling of Chemotherapeutic Agents: A Report from the Mount Sinai Medical Center CA-A Cancer Journal of Clinicians, 1983; (Sept/Oct) 258-263.

6.

American Society of Hospital Pharmacists Technical Assistance Bulletin on Handling Cytotoxic and Hazardous Drugs. Am J. Hosp. Pharm, 1990; 47:1033-1049.

7.

Controlling Occupational Exposure to Hazardous Drugs. (OSHA Work Practice Guidelines), Am J. Health- Syst Pharm, 1996; 53: 1669-1685.
Distributed by Hospira, Inc. Lake Forest, IL 60045 USA

GUJ-DRUGS/G/28/1267
LAB-1174-3.0
Revised: 12/2022
Hospira, Inc.