DESCRIPTION
5% Lidocaine Hydrochloride and 7.5% Dextrose Injection, USP is a sterile, nonpyrogenic, hyperbaric solution for use in spinal anesthesia.
5% Lidocaine Hydrochloride and 7.5% Dextrose Injection, USP contains lidocaine HCl, which is chemically designated as 2-(diethylamino)-N-(2,6-dimethylphenyl)-acetamide monohydrochloride, monohydrate and Dextrose (D-Glucose monohydrate) which have the following structural formulas:
Lidocaine Hydrochloride (monohydrate)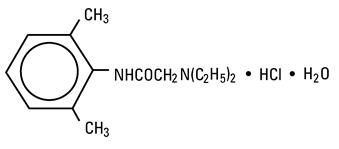 Dextrose (hydrous)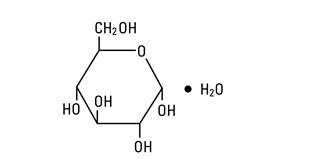 5% Lidocaine Hydrochloride and 7.5% Dextrose Injection, USP contains 50 mg/mL of lidocaine hydrochloride, anhydrous with 75 mg/mL of dextrose, hydrous in water for injection. May contain sodium hydroxide and/or hydrochloric acid for pH adjustment. pH 6.5 (6.0 to 7.0). The osmolar concentration is 0.75 mOsmol/mL (calc.). The specific gravity is 1.030 to 1.035.
INDICATIONS AND USAGE
5% Lidocaine Hydrochloride and 7.5% Dextrose Injection, USP is indicated for the production of spinal anesthesia when the accepted procedures for this technique as described in standard textbooks are observed.
CONTRAINDICATIONS
Lidocaine is contraindicated in patients with a known history of hypersensitivity to local anesthetics of the amide type.
The following conditions preclude the use of spinal anesthesia:
Severe hemorrhage, shock or heart block
Local infection at the site of proposed puncture
Septicemia
Known sensitivity to the local anesthetic agent.
WARNINGS
5% LIDOCAINE HYDROCHLORIDE AND 7.5% DEXTROSE INJECTION, USP FOR SPINAL ANESTHESIA SHOULD BE EMPLOYED ONLY BY CLINICIANS WHO ARE WELL VERSED IN DIAGNOSIS AND MANAGEMENT OF DOSE-RELATED TOXICITY AND OTHER ACUTE EMERGENCIES THAT MIGHT ARISE FROM SPINAL ANESTHESIA AND THEN ONLY AFTER ENSURING THE IMMEDIATE AVAILABILITY OF OXYGEN, OTHER RESUSCITATIVE DRUGS, CARDIOPULMONARY EQUIPMENT, AND THE PERSONNEL NEEDED FOR PROPER MANAGEMENT OF TOXIC REACTIONS AND RELATED EMERGENCIES (see also ADVERSE REACTIONS and PRECAUTIONS). DELAY IN PROPER MANAGEMENT OF DOSE-RELATED TOXICITY, UNDERVENTILATION FROM ANY CAUSE AND/OR ALTERED SENSITIVITY MAY LEAD TO THE DEVELOPMENT OF ACIDOSIS, CARDIAC ARREST AND, POSSIBLY, DEATH.
Methemoglobinemia
Cases of methemoglobinemia have been reported in association with local anesthetic use. Although all patients are at risk for methemoglobinemia, patients with glucose-6-phosphate dehydrogenase deficiency, congenital or idiopathic methemoglobinemia, cardiac or pulmonary compromise, infants under 6 months of age, and concurrent exposure to oxidizing agents or their metabolites are more susceptible to developing clinical manifestations of the condition. If local anesthetics must be used in these patients, close monitoring for symptoms and signs of methemoglobinemia is recommended.
Signs of methemoglobinemia may occur immediately or may be delayed some hours after exposure, and are characterized by a cyanotic skin discoloration and/or abnormal coloration of the blood. Methemoglobin levels may continue to rise; therefore, immediate treatment is required to avert more serious CNS and cardiovascular adverse effects, including seizures, coma, arrhythmias, and death. Discontinue 5% Lidocaine Hydrochloride and 7.5% Dextrose Injection and any other oxidizing agents. Depending on the severity of the signs and symptoms, patients may respond to supportive care, i.e., oxygen therapy, hydration. A more severe clinical presentation may require treatment with methylene blue, exchange transfusion, or hyperbaric oxygen.
Intra-articular infusions of local anesthetics following arthroscopic and other surgical procedures is an unapproved use, and there have been post-marketing reports of chondrolysis in patients receiving such infusions. The majority of reported cases of chondrolysis have involved the shoulder joint; cases of gleno-humeral chondrolysis have been described in pediatric and adult patients following intra-articular infusions of local anesthetics with and without epinephrine for periods of 48 to 72 hours. There is insufficient information to determine whether shorter infusion periods are not associated with these findings. The time of onset of symptoms, such as joint pain, stiffness and loss of motion can be variable, but may begin as early as the 2nd month after surgery. Currently, there is no effective treatment for chondrolysis; patients who experienced chondrolysis have required additional diagnostic and therapeutic procedures and some required arthroplasty or shoulder replacement.
To avoid intravascular injection, aspiration should be performed before the local anesthetic solution is injected. The needle must be repositioned until no return of blood can be elicited by aspiration. Note, however, that the absence of blood in the syringe does not guarantee that intravascular injection has been avoided.
Spinal anesthetics should not be injected during uterine contractions since spinal fluid current may carry the drug farther cephalad than desired.
ADVERSE REACTIONS
Adverse experiences following the administration of lidocaine are similar in nature to those observed with other amide local anesthetic agents. These adverse experiences are, in general, dose-related and may result from high plasma levels caused by excessive dosage, rapid absorption or inadvertent intravascular injection, or may result from a hypersensitivity, idiosyncrasy or diminished tolerance on the part of the patient. Serious adverse experiences are generally systemic in nature. The following types are those most commonly reported:
OVERDOSAGE
Acute emergencies from local anesthetics are generally related to high plasma levels encountered during therapeutic use of local anesthetics or to unintended subarachnoid injection of local anesthetic solution (see ADVERSE REACTIONS, WARNINGS, and PRECAUTIONS).
Management of local anesthetic emergencies
The first consideration is prevention, best accomplished by careful and constant monitoring of cardiovascular and respiratory vital signs and the patient's state of consciousness after each local anesthetic injection. At the first sign of change, oxygen should be administered.
The first step in the management of convulsions, as well as underventilation or apnea due to excessive cephalad spread of the spinal block, consists of immediate attention to the maintenance of a patent airway and assisted or controlled ventilation with oxygen and a delivery system capable of permitting immediate positive airway pressure by mask. Immediately after the institution of these ventilatory measures, the adequacy of the circulation should be evaluated, keeping in mind that drugs used to treat convulsions sometimes depress the circulation when administered intravenously. Should convulsions persist despite adequate respiratory support, and if the status of the circulation permits, small increments of an ultra-short acting barbiturate (such as thiopental or thiamylal) or a benzodiazepine (such as diazepam) may be administered intravenously. The clinician should be familiar, prior to use of local anesthetics, with these anticonvulsant drugs. Supportive treatment of circulatory depression may require administration of intravenous fluids and, when appropriate, a vasopressor as directed by the clinical situation (e.g., ephedrine).
If not treated immediately, both convulsions and cardiovascular depression can result in hypoxia, acidosis, bradycardia, arrhythmias and cardiac arrest. Underventilation or apnea due to excessive cephalad spread of the spinal block may produce these same signs and also lead to cardiac arrest if ventilatory support is not instituted. If cardiac arrest should occur, standard cardiopulmonary resuscitative measures should be instituted.
Endotracheal intubation, employing drugs and techniques familiar to the clinician, may be indicated, after initial administration of oxygen by mask, if difficulty is encountered in the maintenance of a patent airway or if prolonged ventilatory support (assisted or controlled) is indicated.
Dialysis is of negligible value in the treatment of acute overdosage with lidocaine.
The intravenous LD50 of lidocaine HCl in female mice is 26 (21 to 31) mg/kg and subcutaneous LD50 is 264 (203 to 304) mg/kg.
DOSAGE AND ADMINISTRATION
Spinal anesthesia with 5% Lidocaine Hydrochloride and 7.5% Dextrose Injection, USP may be induced in the right or left lateral recumbent or the sitting position. Since this is a hyperbaric solution, the anesthetic will tend to move in the direction in which the table is tilted. After the desired level of anesthesia is obtained and the anesthetic has become fixed, usually in 5 to 10 minutes with lidocaine, the patient may be positioned according to the requirement of the surgeon or obstetrician.
In clinical trials, the safety of hyperbaric lidocaine for single injection spinal anesthesia was demonstrated using 22 or 25 gauge spinal needles. In these studies, free flow of CSF was visible before injection of lidocaine.
Neurologic deficits have been reported with the use of small bore needles and microcatheters for spinal anesthesia. It has been postulated, based on in vitro models, that these deficits were caused by pooling and non-uniform distribution of concentrated local anesthetic within the subarachnoid space.1 Animal studies suggest mixing of 5% lidocaine hydrochloride with an equal volume of CSF or preservative-free 0.9% saline solution may reduce the risk of nerve injury due to pooling of concentrated local anesthetic2 (see PRECAUTIONS).
Intrathecal distribution of anesthetic may be facilitated by using a spinal needle of sufficient gauge to insure adequate withdrawal of CSF through the needle prior to and after anesthetic administration. If the technique is properly placed in the subarachnoid space, a separate injection is seldom necessary.
An incomplete or patchy block not responsive to patient repositioning may indicate misplacement or inadequate distribution of drug. To avoid excessive drug pooling, additional doses of lidocaine should not be administered with the same needle placement.
INJECTIONS SHOULD BE MADE SLOWLY. Consult standard textbooks for specific techniques for spinal anesthetic procedures.
There have been adverse event reports of chondrolysis in patients receiving intra-articular infusions of local anesthetics following arthroscopic and other surgical procedures. 5% Lidocaine Hydrochloride and 7.5% Dextrose Injection, USP is not approved for this use (see WARNINGS and DOSAGE AND ADMINISTRATION).
HOW SUPPLIED
5% Lidocaine Hydrochloride and 7.5% Dextrose Injection, USP, is supplied in the following:
Unit of Sale
Concentration
Clamcell
Each

NDC 0409-4712-01


5 clamcells per Bundle
5%


100 mg/2 mL


(50 mg/mL)
NDC 0409-4712-25
5 ampuls per Clamcell
NDC 0409-4712-11
Single-dose Glass Ampul
Lambert DH and Hurley RJ: Cauda Equina syndrome and continuous spinal anesthesia. Anesth and Analg 72:817–9, 1991.
Ready, LB, et al: Neurotoxicity of local anesthetics in rabbits. Anesthesiology 63:364–70, 1985.
Hospira, Inc.