DESCRIPTION
DEPO-PROVERA Sterile Aqueous Suspension contains medroxyprogesterone acetate, which is a derivative of progesterone and is active by the parenteral and oral routes of administration. It is a white to off-white, odorless crystalline powder, stable in air, melting between 200° and 210° C. It is freely soluble in chloroform, soluble in acetone and in dioxane, sparingly soluble in alcohol and methanol, slightly soluble in ether and insoluble in water.
The chemical name for medroxyprogesterone acetate is Pregn-4-ene-3, 20-dione, 17-(acetyloxy)-6-methyl-, (6α)-. The structural formula is: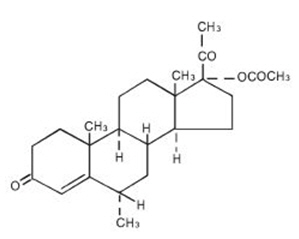 medroxyprogesterone acetate
DEPO-PROVERA for intramuscular injection is available as 400 mg/mL medroxyprogesterone acetate. Each mL of the 400 mg/mL suspension contains:
Medroxyprogesterone acetate
400 mg
Polyethylene glycol 3350
20.3 mg
Sodium sulfate anhydrous
11 mg
with
Myristyl-gamma-picolinium chloride
1.69 mg
added as preservative
When necessary, pH was adjusted with sodium hydroxide and/or hydrochloric acid.
ACTIONS
Medroxyprogesterone acetate, administered parenterally in the recommended doses to women with adequate endogenous estrogen, transforms proliferative endometrium into secretory endometrium.
Medroxyprogesterone acetate inhibits (in the usual dose range) the secretion of pituitary gonadotropin which, in turn, prevents follicular maturation and ovulation.
Because of its prolonged action and the resulting difficulty in predicting the time of withdrawal bleeding following injection, medroxyprogesterone acetate is not recommended in secondary amenorrhea or dysfunctional uterine bleeding. In these conditions oral therapy is recommended.
INDICATIONS AND USES
Adjunctive therapy and palliative treatment of inoperable, recurrent, and metastatic endometrial or renal carcinoma.
CONTRAINDICATIONS
Active thrombophlebitis, or current or past history of thromboembolic disorders, or cerebral vascular disease
Known sensitivity to DEPO-PROVERA (medroxyprogesterone acetate or any of its other ingredients).
WARNINGS
1. Thromboembolic Disorders
The physician should be alert to the earliest manifestations of thrombotic disorder (thrombophlebitis, cerebrovascular disorder, pulmonary embolism, and retinal thrombosis). Should any of these occur or be suspected, the drug should be discontinued immediately.
2. Ocular Disorders
Medication should be discontinued pending examination if there is a sudden partial or complete loss of vision, or if there is a sudden onset of proptosis, diplopia or migraine. If examination reveals papilledema or retinal vascular lesions, medication should be withdrawn.
DRUG INTERACTIONS
Aminoglutethimide administered concomitantly with DEPO-PROVERA Sterile Aqueous Suspension may significantly depress the serum concentrations of medroxyprogesterone acetate. DEPO-PROVERA users should be warned of the possibility of decreased efficacy with the use of this or any related drugs.
In vitro
Medroxyprogesterone acetate is metabolized primarily by hydroxylation via the CYP3A4. Though no formal drug interaction trials have been conducted, concomitant administration of strong CYP3A inhibitors is expected to increase concentrations of medroxyprogesterone acetate, whereas the concomitant administration of strong CYP3A inducers is expected to decrease medroxyprogesterone acetate concentrations. Therefore, coadministration with strong CYP3A inhibitors (e.g., ketoconazole, itraconazole, clarithromycin, atazanavir, indinavir, nefazodone, nelfinavir, ritonavir, saquinavir, telithromycin, voriconazole) or strong CYP3A inducers (e.g., phenytoin, carbamazepine, rifampin, rifabutin, rifapentin, phenobarbital, St. John's Wort) should be avoided.
LABORATORY TEST INTERACTIONS
The pathologist should be advised of progestin therapy when relevant specimens are submitted. The following laboratory tests may be affected by progestins including DEPO-PROVERA Sterile Aqueous Suspension:
a)

Plasma and urinary steroid levels are decreased (e.g. progesterone, estradiol, pregnanediol, testosterone, cortisol).

b)

Gonadotropin levels are decreased.

c)

Sex-hormone binding globulin concentrations are decreased.

d)

Protein bound iodine and butanol extractable protein bound iodine may increase. T

3

uptake values may decrease.

e)

Coagulation test values for prothrombin (Factor II), and Factors VII, VIII, IX, and X may increase.

f)

Sulfobromophthalein and other liver function test values may be increased.

g)

The effects of medroxyprogesterone acetate on lipid metabolism are inconsistent. Both increases and decreases in total cholesterol, triglycerides, low-density lipoprotein (LDL) cholesterol, and high-density lipoprotein (HDL) cholesterol have been observed in studies.
ADVERSE REACTIONS
See PRECAUTIONS for possible adverse effects on the fetus
DOSAGE AND ADMINISTRATION
The suspension is intended for intramuscular administration only, rotating the sites with every injection. As with any intramuscular injection, to avoid an inadvertent subcutaneous injection, body habitus should be assessed prior to each injection to determine if a longer needle is necessary particularly for gluteal intramuscular injection.
When multi-dose vials are used, special care to prevent contamination of the contents is essential [see WARNINGS and PRECAUTIONS].
HOW SUPPLIED
DEPO-PROVERA Sterile Aqueous Suspension is available as 400 mg/mL in 2.5 mL vials.
NDC 0009-0626-01 2.5ml vial