WARNING: ADDICTION, ABUSE, AND MISUSE; LIFE-THREATENING RESPIRATORY DEPRESSION; NEONATAL OPIOID WITHDRAWAL SYNDROME; and RISKS FROM CONCOMITANT USE WITH BENZODIAZEPINES OR OTHER CNS DEPRESSANTS
DESCRIPTION
Morphine is a tertiary nitrogen base containing a phenanthrene nucleus; it has two hydroxyl groups, one phenolic and the other alcoholic (secondary). The sulfate salt occurs as white, feathery, silky crystals, cubical masses of crystals, or white, crystalline powder.
The chemical name of morphine sulfate is 7,8-didehydro-4,5α-epoxy-17-methylmorphinan-3,6α-diol sulfate (2:1) (salt), pentahydrate.
It has the following chemical structure: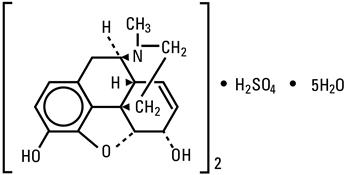 (C17H19NO3)2 ∙ H2SO4 ∙ 5H2O M.W. 758.83
Morphine Sulfate Injection, USP is a sterile solution of morphine sulfate pentahydrate in Water for Injection, USP.
Morphine Sulfate Injection, USP is available in the following concentrations:
Each mL of Morphine Sulfate Injection, USP, Preservative Free (no bacteriostat or antioxidant added) contains 25 mg Morphine Sulfate in Water for Injection. Sulfuric acid added for adjustment of pH to 3.5 (2.5 to 6.5).
Each mL of Morphine Sulfate Injection, USP, (no bacteriostat added), contains 25 mg or 50 mg Morphine Sulfate, 0.75 mg Edetate Disodium, 1 mg Sodium Metabisulfite (added during manufacture) as an antioxidant, in Water for Injection. Sulfuric acid added for adjustment of pH to 3.5 (2.5 to 6.5).
NOTE: These products are intended for intravenous use only. They are not intended for intrathecal or epidural use. They are for use after dilution, not for direct infusion, and is intended as a single-dose unit. It contains no antimicrobial preservatives. When the dosing requirement is completed, the unused portion should be discarded in an appropriate manner.
CLINICAL PHARMACOLOGY
Mechanism of Action
Morphine is a full opioid agonist and is relatively selective for the mu-opioid receptor, although it can bind to other opioid receptors at higher doses. The principal therapeutic action of morphine is analgesia. Like all full opioid agonists, there is no ceiling effect for analgesia with morphine. Clinically, dosage is titrated to provide adequate analgesia and may be limited by adverse reactions, including respiratory and CNS depression.
The precise mechanism of the analgesic action is unknown. However, specific CNS opioid receptors for endogenous compounds with opioid-like activity have been identified throughout the brain and spinal cord and are thought to play a role in the analgesic effects of this drug.
INDICATIONS AND USAGE
Morphine sulfate is indicated for the relief of severe pain. It is used preoperatively to sedate the patient and allay apprehension, facilitate anesthesia induction and reduce anesthetic dosage. It is likewise effective in the control of post-operative pain.
The use of morphine for the relief of pain should be reserved for the more severe manifestations of pain, as in myocardial infarction, severe injuries, or in severe chronic pain associated with terminal cancer after all non-narcotic analgesics have failed.
Effective analgesic therapy of severe chronic pain associated with terminal cancer continues to be a difficult problem. Intermittent administration of intramuscular morphine may be effective; however, the mode of therapy has significant limitations. Morphine has a short plasma half-life of 2.5 to 3.0 hours; therefore, frequent administration (every 1 to 2 hours) often becomes necessary to control severe pain associated with cancer. Tolerance develops to the analgesic effects and increasingly higher doses of morphine are required to produce analgesia. The higher morphine doses produce significant and often life-threatening side effects (see ADVERSE REACTIONS). The peak and trough effects produced by intermittent administration cause fluctuations in pain control. Repeated intramuscular injections are frequently unacceptable due to the lack of muscle mass in the debilitated patient, the tendency for bruising and bleeding at the injection site, and the anxiety and pain associated with the injection.
Continuous intravenous infusion of morphine (see DOSAGE AND ADMINISTRATION) has been employed as an alternative to traditional modes of administration. Lower doses of morphine produce uniform pain control because a steady morphine concentration is maintained. Titration of the dosage to the patient's needs is easily achieved by adjusting the infusion rate. The lag time between the patient's request for pain medication and administration of the dose and the amount of nursing time necessary for preparation and administration of frequent doses are reduced. The degree of respiratory depression and sedation may be decreased, and the anxiety experienced by the patient in anticipation of intramuscular administration is avoided. Some Investigators feel that tolerance to the analgesic effects may develop more slowly with continuous intravenous infusion.
In addition to analgesia, the drug may relieve anxiety and reduce left ventricular work by reducing preload pressure. Morphine is also used in the therapy of dyspnea associated with acute left ventricular and pulmonary edema. Care must be taken to avoid inducing respiratory depression in such patients.
For open-heart surgery, especially in high risk patients with cardiac disease, some anesthesiologists use morphine to produce anesthesia.
CONTRAINDICATIONS
Morphine Sulfate Injection is contraindicated in patients with:
Because of its stimulating effect on the spinal cord, morphine should not be used in convulsive states, such as those occurring in status epilepticus, tetanus, and strychnine poisoning. Morphine is also contraindicated in the following conditions: heart failure secondary to chronic lung disease; cardiac arrhythmias; increased intracranial or cerebrospinal pressure; head injuries; brain tumor; acute alcoholism; and delirium tremens.
The use of bisulfites is contraindicated in asthmatics. Bisulfites and morphine may potentiate each other, preventing use by causing severe adverse reactions. Use with extreme caution in patients with chronic obstructive pulmonary disease or cor pulmonale, patients with substantially decreased respiratory reserve, and patients with pre-existing respiratory depression, hypoxia or hypercapnia. In such patients, even usual therapeutic doses of narcotics may decrease respiratory drive while simultaneously increasing airway resistance to the point of apnea.
ADVERSE REACTIONS
The following serious adverse reactions are described, or described in greater detail, in other sections:
The following adverse reactions associated with the use of morphine were identified in clinical studies or postmarketing reports. Because some of these reactions were reported voluntarily from a population of uncertain size, it is not always possible to reliably estimate their frequency or establish a causal relationship to drug exposure.
Serious adverse reactions associated with Morphine Sulfate Injection included respiratory depression, apnea, and to a lesser degree, circulatory depression, respiratory arrest, shock, and cardiac arrest. Rarely, anaphylactoid reactions have been reported when morphine or other phenanthrene alkaloids of opium are administered intravenously.
The most frequently observed adverse reactions included sedation, lightheadedness, dizziness, nausea, vomiting, constipation, and diaphoresis.
Lightheadedness, dizziness, sedation, nausea, vomiting and sweating seem to be more prominent in ambulatory patients and in those who are not suffering from severe pain. In such individuals, lower doses are advisable.
Other possible adverse reactions included:
CNS – Euphoria, dysphoria, weakness, headache, agitation, tremor, uncoordinated muscle movements, visual disturbances, transient hallucinations, disorientation, delirium, somnolence, drowsiness, miosis, pinpoint pupils, coma, insomnia, impairment of mental and physical performance, mental clouding, lethargy, anxiety, fear, psychic dependence, mood changes, confusion.
Gastrointestinal – Constipation, biliary tract spasm, dry mouth, anorexia. Patients with chronic ulcerative colitis may experience increased colonic motility; toxic dilatation has been reported in patients with acute ulcerative colitis.
Cardiovascular – Tachycardia, bradycardia, palpitation, faintness, syncope, orthostatic hypotension, peripheral circulatory collapse, hypotension, phlebitis following intravenous injection.
Genitourinary – Oliguria and urinary retention or hesitancy; an antidiuretic effect has been reported; ureteral spasm and spasm of vesical sphincters, reduced libido and/or potency.
Allergic – Pruritus, urticaria, skin rashes, edema, and (rarely) hemorrhagic urticaria. Flare over the vein with intravenous injection may occur. Anaphylactoid reactions have been reported following intravenous administration. An isolated case of thrombocytopenia has been reported to be induced by morphine.
Other – Opioid-induced histamine release may be responsible for the flushing of the face, diaphoresis, and pruritus often seen with these drugs. Wheals and urticaria at the site of injection are probably related to histamine release. Local tissue irritation, pain, and induration have been reported following repeated subcutaneous injection. Morphine may alter temperature regulation in susceptible individuals and will depress the cough reflex.
Serotonin syndrome: Cases of serotonin syndrome, a potentially life-threatening condition, have been reported during concomitant use of opioids with serotonergic drugs.
Adrenal insufficiency: Cases of adrenal insufficiency have been reported with opioid use, more often following greater than one month of use.
Anaphylaxis: Anaphylaxis has been reported with ingredients contained in Morphine Sulfate Injection.
Androgen deficiency: Cases of androgen deficiency have occurred with chronic use of opioids (see CLINICAL PHARMACOLOGY).
DRUG ABUSE AND DEPENDENCE
Controlled Substance
Morphine Sulfate Injection contains morphine, a Schedule II controlled substance.
Abuse
Morphine Sulfate Injection contains morphine, a substance with a high potential for abuse similar to other opioids including fentanyl, hydromorphone, methadone, oxycodone, oxymorphone, and tapentadol. Morphine Sulfate Injection can be abused and is subject to misuse, addiction, and criminal diversion (see WARNINGS).
All patients treated with opioids require careful monitoring for signs of abuse and addiction, because use of opioid analgesic products carries the risk of addiction even under appropriate medical use. Prescription drug abuse is the intentional non-therapeutic use of a prescription drug, even once, for its rewarding psychological or physiological effects.
Drug addiction is a cluster of behavioral, cognitive, and physiological phenomena that develop after repeated substance use and includes: a strong desire to take the drug, difficulties in controlling its use, persisting in its use despite harmful consequences, a higher priority given to drug use than to other activities and obligations, increased tolerance, and sometimes a physical withdrawal.
"Drug-seeking" behavior is very common in persons with substance abuse disorders. Drug-seeking tactics include emergency calls or visits near the end of office hours, refusal to undergo appropriate examination, testing or referral, repeated "loss" of prescriptions, tampering with prescriptions, and reluctance to provide prior medical records or contact information for other treating physician(s). "Doctor shopping" (visiting multiple prescribers to obtain additional prescriptions) is common among drug abusers and people suffering from untreated addiction. Preoccupation with achieving adequate pain relief can be appropriate behavior in a patient with poor pain control.
Abuse and addiction are separate and distinct from physical dependence and tolerance. Health care providers should be aware that addiction may not be accompanied by concurrent tolerance and symptoms of physical dependence in all addicts. In addition, abuse of opioids can occur in the absence of true addiction.
Morphine Sulfate Injection, like other opioids, can be diverted for non-medical use into illicit channels of distribution. Careful record-keeping of prescribing information, including quantity, frequency, and renewal requests, as required by state and federal law, is strongly advised.
Proper assessment of the patient, proper prescribing practices, periodic re-evaluation of therapy, and proper dispensing and storage are appropriate measures that help to limit abuse of opioid drugs.
Dependence
Both tolerance and physical dependence can develop during chronic opioid therapy. Tolerance is the need for increasing doses of opioids to maintain a defined effect such as analgesia (in the absence of disease progression or other external factors). Tolerance may occur to both the desired and undesired effects of drugs, and may develop at different rates for different effects.
Physical dependence results in withdrawal symptoms after abrupt discontinuation or a significant dosage reduction of a drug. Withdrawal also may be precipitated through the administration of drugs with opioid antagonist activity (e.g., naloxone, nalmefene), mixed agonist/antagonist analgesics (e.g., pentazocine, butorphanol, nalbuphine), or partial agonists (e.g., buprenorphine). Physical dependence may not occur to a clinically significant degree until after several days to weeks of continued opioid usage.
Morphine Sulfate Injection should not be abruptly discontinued in a physically-dependent patient. If Morphine Sulfate Injection is abruptly discontinued in a physically-dependent patient, a withdrawal syndrome may occur. Some or all of the following can characterize this syndrome: restlessness, lacrimation, rhinorrhea, yawning, perspiration, chills, myalgia, and mydriasis. Other signs and symptoms also may develop, including, irritability, anxiety, backache, joint pain, weakness, abdominal cramps, insomnia, nausea, anorexia, vomiting, diarrhea, or increased blood pressure, respiratory rate, or heart rate.
Withdrawal should be treated in a hospital. Usually, it is necessary only to provide supportive care with administration of a tranquilizer to suppress anxiety. Severe symptoms of withdrawal may require administration of a replacement narcotic.
Infants born to mothers physically dependent on opioids will also be physically dependent and may exhibit respiratory difficulties and withdrawal signs (see PRECAUTIONS).
OVERDOSAGE
Clinical Presentation
Acute overdose with Morphine Sulfate Injection can be manifested by respiratory depression (a decrease in respiratory rate and/or tidal volume, Cheyne-Stokes respiration, cyanosis), somnolence progressing to stupor or coma, skeletal muscle flaccidity, cold and clammy skin, constricted pupils, and, in some cases, pulmonary edema, bradycardia, hypotension, partial or complete airway obstruction, atypical snoring, and death. Marked mydriasis rather than miosis may be seen with hypoxia in overdose situations (see CLINICAL PHARMACOLOGY). In severe overdosage, particularly by the intravenous route, apnea, circulatory collapse, cardiac arrest, and death may occur.
Treatment of Overdose
In case of overdose, priorities are the reestablishment of a patent and protected airway and institution of assisted or controlled ventilation, if needed. Employ supportive measures (including oxygen and vasopressors) in the management of circulatory shock and pulmonary edema as indicated. Cardiac arrest or arrhythmias will require advanced life-support techniques. If depressed respiration is associated with muscular rigidity, an intravenous neuromuscular blocking agent may be required to facilitate assisted or controlled respiration.
The opioid antagonists, naloxone or nalmefene, are specific antidotes to respiratory depression resulting from opioid overdose. For clinically significant respiratory or circulatory depression secondary to morphine sulfate overdose, administer an opioid antagonist. Opioid antagonists should not be administered in the absence of clinically significant respiratory or circulatory depression secondary to morphine sulfate overdose.
Because the duration of opioid reversal is expected to be less than the duration of action of morphine in Morphine Sulfate Injection, carefully monitor the patient until spontaneous respiration is reliably re-established. If the response to an opioid antagonist is suboptimal or only brief in nature, administer additional antagonist as directed by the product's prescribing information.
In an individual physically dependent on opioids, administration of the recommended dosage of the antagonist will precipitate an acute withdrawal syndrome. The severity of the withdrawal symptoms experienced will depend on the degree of physical dependence and the dose of the antagonist administered. If a decision is made to treat serious respiratory depression in the physically dependent patient, administration of the antagonist should begin with care and by titration with smaller than usual doses of the antagonist.
Oxygen, intravenous fluids, vasopressors, and other supportive measures should be employed as indicated. In cases of oral overdose, the stomach should be evacuated by emesis or gastric lavage if treatment can be instituted within 2 hours following ingestion. The patient should be observed closely for a rise in temperature or pulmonary complications that may signal the need for institution of antibiotic therapy.
DOSAGE AND ADMINISTRATION
THESE PRODUCTS ARE INTENDED FOR SLOW INTRAVENOUS USE ONLY. RAPID INTRAVENOUS ADMINISTRATION MAY RESULT IN CHEST WALL RIGIDITY. NOT FOR INTRATHECAL OR EPIDURAL USE.
HOW SUPPLIED
Morphine Sulfate Injection, USP, is available in glass fliptop vials as follows:
25 mg/mL Morphine Sulfate Injection, USP, Preservative Free (no bacteriostat or antioxidant added).
Single-dose vials.1
Unit of Sale
Concentration
NDC 0409-1135-02
Carton of 1 Single-dose Fliptop Vial
250 mg/10 mL
(25 mg/mL)
50 mg/mL Morphine Sulfate Injection, USP (no bacteriostat added).
Single-dose vials.1
Unit of Sale
Concentration
NDC 0409-1134-03
Carton of 1 Single-dose Fliptop Vial
1,000 mg/20 mL
(50 mg/mL)
NDC 0409-1134-05
Carton of 1 Single-dose Fliptop Vial
2,500 mg/50 mL
(50 mg/mL)
FOR INTRAVENOUS USE ONLY AFTER DILUTION.
NOT FOR DIRECT INJECTION.
THESE PRODUCTS ARE INTENDED FOR INTRAVENOUS USE ONLY.
NOT INTENDED FOR INTRATHECAL OR EPIDURAL USE.
Storage
Store at 20 to 25°C (68 to 77°F). [See USP Controlled Room Temperature.] Morphine sulfate solutions may darken with age. Do not use if injection is darker than pale yellow, discolored in any other way, or contains a precipitate. Do not heat-sterilize the Preservative Free (antioxidant free) formula.
PROTECT FROM LIGHT
Hospira, Inc.